Online Dating Coach – Thanksgiving Turkey Leftovers
It's too funny.  At this time of year I get a lot of those iVillage (now defunct since 2014) and South Beach Diet sort of emails with headlines all addressing, "What to do with all of those Thanksgiving Leftovers…."
Do you get any emails like that in your email box?
It's probably a bit more of a chick thing.  Indeed, as an Online Dating Coach, I am an Online Dating Expert and my primary niche of clients is single women over 40 (sometimes it's mid-30s, it just depends).  So, my sharing their Chick focus in life works out just fine.
Well, in my family, we LOVE the Thanksgiving Turkey STUFFING!  In some parts of the world, "Stuffing" is known as "Dressing."  Same thing.  We're good.  Well…. we NEVER have problems with leftovers.  We LOVE the Turkey.  We will eat open faced Turkey sandwiches with gravy and whatever side dishes are available for the next 4 or five meals.  Lunch.  "Did you want the same thing for dinner?"  "YES!"
As my brother and I are packing and getting ready to get back on the road (McDonald's has REALLY good coffee, which is readily available along Highway 5 – THANK GOD!), we are being offered another round of, YES! Turkey sandwiches to take on the road with us.
Where to Meet Singles Over 40 in Daily Life | Dating Hacks | Easy Dating Tips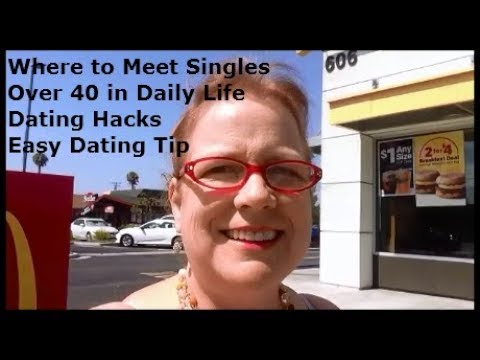 We have not yet started sprouting pinfeathers, so we are still DELIGHTED to eat those fresh roast Turkey sandwiches.
Now mind you, but dinner tonight, I'll be interested in ANOTHER food group.  Even this morning we had scrambled eggs with stuffing (yes, it is REALLY good).  A variation on the leftovers without itself being the Turkey.
By the end of the bird, we would make some last scraps of the meat dish like a Turkey Curry (I know, some gringo anglo version, but we actually grew up with that in the days before all those ingredients being available at Safeway because my parents were buds with an Indian couple, or where one of them was Indian, when my dad was in grad school at Yale.  You expanded you food repertoire with the Eatz from the other grad schools couples.).  Last legs (thighs, breasts and wings….)?  Stew it to make Turkey SOUP which freezes well so you have fabulous HOME MADE Turkey soup throughout the winter.
What I sort of noticed with the dating scene was that many of us singles gave over the Day of Thanksgiving to our families.  Text messages, with only little bits of flirtation, were exchanged on Thanksgiving.
And then Friday, aka Black Friday, and after that poor man's death in the stampede (idiots!) at Long Island Wal*Mart, Black Friday will always be truly Black to me.  Well, yesterday, the singles all started to warm up again.  Drinks dates for Sunday? are being arranged.
We are all feeling the need to go out and walk, hit the gyms, and hike now that the Turkey leftovers are dwindling.
In the States, this is still such a low-key 4 day weekend.  I won't whump you upside the head.  I do have a 20s something male client whom I have to craft and email homework to.  However, as with all the clients who apply whom I actually accept, he is motivated and promises to DO his homework, not just "try." (Yes, we had a little Yoda discussion there…)
If you are single, do SOMETHING this weekend.  Something low-key is fine.  SOMETHING low-key to meet more singles and expand your social circle.
And then tell me what it is….  (no grading system, just Pass/Fail, rinse, repeat)
And have fun.
Then next week, the Thanksgiving Turkey Leftovers will have passed, and we will return to The Beef in your Dating Planning.
Or as those ads sad in the 1980s, "Where's the Beef?"
No worries.  I won't ask you that question until MONDAY.  You have the whole weekend to enjoy your Turkey Leftovers first.
Happy Dating and Relationships,
April Braswell