As an award winning midlife dating expert and coach to single men and women over 40 and 50, I'm hearing from singles in their 40s and 50s or so wanting to get some dating hacks tips for where to meet singles their own age offline IRL.
Online dating sites and the singles apps can be an excellent resource for meeting singles after 40 and 50 plus years old. But what about in your daily life? Should you just shut off your mate seeking devices when you're not online?
The other thing I frequently hear from midlife singles is that men and women just aren't meeting quality singles. They go online, and all they're seeing are very superficial profiles. If you need more help getting the results you seek in pursuing love after 40 online, definitely apply to have me craft a custom profile for you and coach you all the way through how to use that profile better for your advantage to find love as I have. Online Dating Profile Writing Coaching Service
To find love after 40 and over 50, you want to interweave online seeking with offline meeting as well to maximize your chances for finding love and being absolutely ready for it when you do!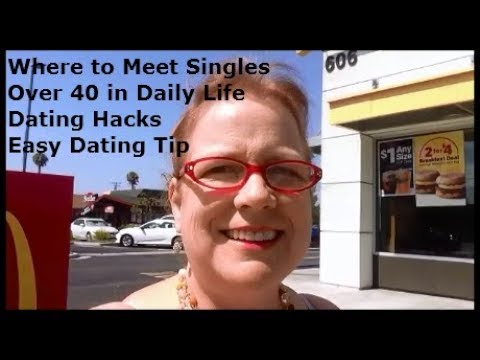 Chime below in the comments section. What are some of your favorite places to bump into and meet singles at midlife IRL?
Happy Dating and Relationships,
April
April Braswell is an expert columnist at DatingAdvice.com and speaks to singles in Singles Groups and Divorce Support Groups as well as at Singles Dating Workshops and Singles Conferences.  Looking to Hire April to speak at your Singles Event?
Do you want some professional help crafting a great dating profile that stands out from the herd, the sea of sameness and gets results from high quality singles?
For your photos, your primary profile photos, I highly recommend you work with a Professional Photographer. Yes, it really does make a difference. You won't look stilted a great professional photographer will make your casual photos look like you looking amazing!
My preferred service is: LOOK BETTER ONLINE
When it's been awhile since you've been dating regularly and you want an expert friend and ally to turn to for advice…
When you are newly back in the Dating Game now looking to date again after your divorce…
When you're ready to get going online and find love and the romantic relationship you crave….
When you want to supercharge your online dating search and courtship to find real love….
When you're sick of the sea of sameness swirling about the dating sites and lackluster result you're getting….
When you're sick and tired of one more Saturday night wasted meeting someone who doesn't match you whatsoever…
When you are just not enjoying the results you were hoping for at the dating apps and singles sites..
Then click here to apply to have April write your professionally written internet dating profile.
Professional Online Dating Profile Writing and Review Service
Seeking Love Online
Have you tried online dating yet?  But it's not really working for you like the glamorous images you see depicted in the tv ads?  Want help to be successful and safe with internet dating?  Are you ready to get online and look for love using the exciting internet dating sites?
Have you been online for awhile, but you just don't seem to be finding and attracting the right kind of singles for you?  April offers her Professional Internet Dating Profile Writing and Review Service to empower modern singles to attract love online and get better dates.
If you already have an online dating profile, she will review it and assist you to rev it up to be more attractive and alluring to the opposite sex.
If you are at square one and want to get online, with her Internet Dating Profile Writing service, she'll help you capture and convey your unique essence online and get your profile posted asap.
To apply to hire April for her Internet Dating Profile Writing and Review Coaching Service, send her an email to april (AT) aprilbraswell.com to get started in finding the love you want online.